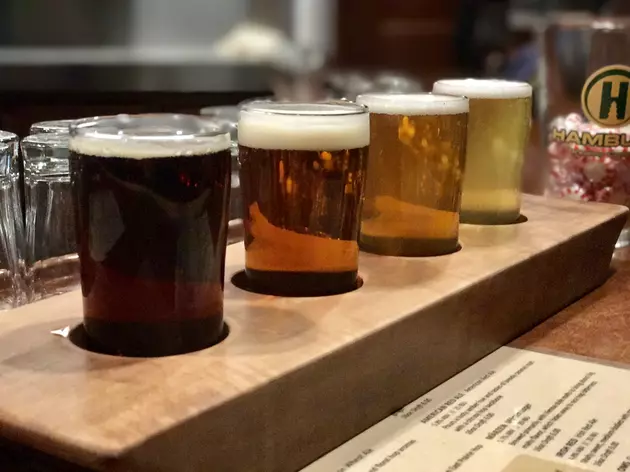 Best Beers In WNY: Hamburg Brewing & 42 North Brewing Co.
A flight at Hamburg Brewing
Buffalo on Tap is coming up this weekend! To get you geared up, I headed out with some friends and visited two of the local breweries that are participating in this weekend's event, Hamburg Brewing in Hamburg, and 42 North Brewing Co. in East Aurora.
The first stop was at Hamburg Brewing (6553 Boston State Rd. Hamburg, NY), where I sampled a flight of beers, along with one of the sour brews that will be featured at this weekend's Buffalo On Tap. Two of the beers in the flight will be available to try this weekend -- the very popular Small Town (Belgian Saison Style Ale), and Frosty The IPA (India Pale Ale). Frosty is the current winter seasonal brew -- be sure to try it before the season is up.
I also tried the Irish Red and Oatmeal Milk Stout, along with the Blackberry Gose (which will also be on the menu for Buffalo on Tap). I'm new to sour beers, and was surprised at how drinkable the Gose was. Owner Johnny Russo mentioned he's converted wine drinkers to beer fans with the Blackberry Gose.
We sampled from their food menu as well, and left totally satisfied. Be sure to try the baked pretzel sticks and pizza.
Then it was over to 42 North (25 Pine Street, East Aurora, NY) which was packed. We were greeted by the raucous sounds of what I can best describe as a jug band, and the crowd was super into it. After dodging some couples dancing, I met up with John Cimperman, one of the owners of 42 North. Open for just 14 months, 42 North has gained a big following in East Aurora, and beyond.
Now their reach extends into the city with the addition of a new brew made exclusively for Deep South Taco (Ellicott and Hertel locations in downtown Buffalo). The "Luchabrew" is a Mexican style beer that Cimperman reminds me is "only available in two places, right here and at Deep South Taco."
42 North brews 8 types of beers, and started with the mission of making the perfect IPA, says Cimperman. So if you're a fan of IPAs, you need to order 42 North's.