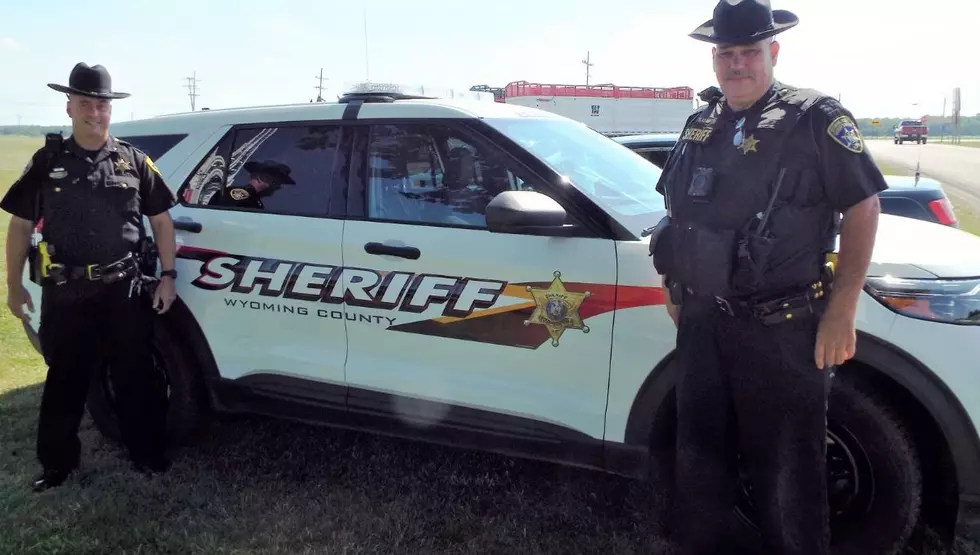 "We've Got Your 6″ Parade Returns To Wyoming County
Photo Credit: Heather Wheeler Facebook
It is back this weekend. The 3rd annual "We've Got Your 6" Wyoming County 1st Responders Ride is happening this Saturday.
Feel Good Mornings With Dave Fields Mon-Fri 6am-10am
The best part is that everyone is invited to be part of the parade. Participants are asked to decorate their motorcycles, cars, and trucks with Thin Blue Line, Thin Red Line, and American, and emergency service flags.
The rally and ride will kick off at the Charcoal Corral and end at the Alexander Fire Department Recreation Hall. There will be a gathering at the end of the ride where you can buy 50/50 raffle tickets, there will be basket giveaways along with hot dogs and hamburgers for sale.
All the money raised during the event will be used for the Wyoming County "Shop with a Cop" program. Last year's funds allow 127 kids in Wyoming County to be part of the program and they are hoping to raise more money this year to allow more kids to participate in the program.
The ride is set to begin around 11:15 am but you can start setting up and getting your vehicle ready at 9 am at Charcoal Corral. The ride will move through Castile, Silver Springs, Warsaw, and Attica. The ride is around 36 miles long.
If you want to watch the ride, feel free to line the streets of the above-mentioned towns. The Police will be providing an escort for the ride, so be alert if you will be driving through the area during the time of the ride and rally.
You can get more details about the ride and rally HERE.
Top 5 Best Cities To Live In New York State
Here are the Top 5 best cities to live in in the State of New York.
The 5 Worst Places To Live In New York State
Every year the website
Niche.com
puts out a list o the best places to live in New York State. But what happens when you go to the very end of the list?
5 Buffalo Ways You Know You Are Getting Old
Getting old is just a part of life but when we do it here in Western New York, there are certain things that happen to you.
More From 96.1 The Breeze WMSX