Val & Tony's Favorite Big Game Snacks #1 Pizza Dip
Jupiterimages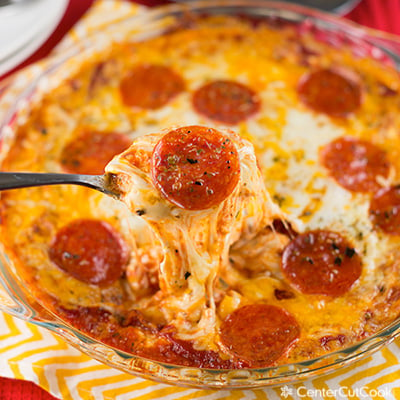 All this week we are bringing you our favorite snacks for any Big Game Party!
Today is one of my favorites -- Pizza Dip! I love this because it's easy to make, and everyone loves it. Simple and effective.
Ingredients: 1 block cream cheese, 1 package of shredded mozzarella cheese, half of a can of pizza sauce, and all the toppings you like!
Spread a layer of cream cheese on the bottom and sides of your baking dish. Then layer in cheese and sauce on top. Then, add more cheese and the rest of your toppings.
Bake at 425 degrees for 15-17 minutes, or until cheese is bubbling. For extra crisp on the top layer, turn on the broiler for a few minutes until you see the cheese crisp up.
Serve with a spoon or some really strong nachos. Enjoy!