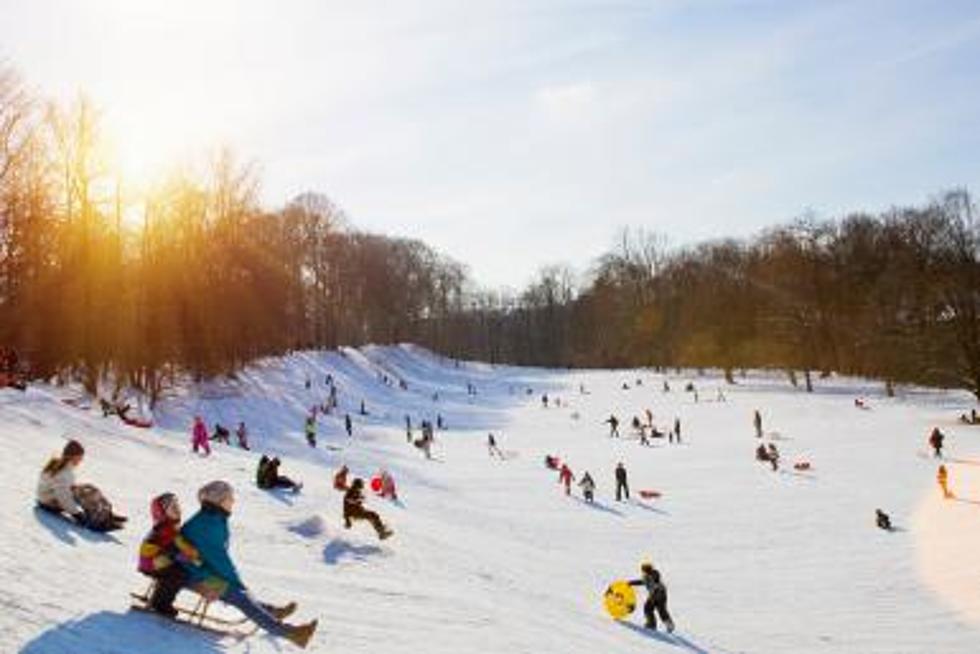 Best Places To Go Sledding In Western New York
Getty Images
Snow is in the forecast this weekend and for pretty much the next couple of weeks which means that your kids will want to go outside and enjoy the snow.
Feel Good Mornings With Dave Fields Mon-Fri 6am-10am
The best part of living in Western New York is that there is no shortage of places to enjoy winter. From skiing to snowboarding to hiking, if you want to get outdoors this winter you can do it.
If you are looking for some family fun, a day of sledding always makes for some great memories. Check out some of the best places to go sledding in Western New York.
Akron Falls Park, 44 Parkview Dr., Akron, (716) 858-8355
Aside from beautiful scenery, Akron Falls Park provides areas for cross-country skiing, snowshoeing, sledding, and ice skating.  For more information on the park, check out Akron Falls Park
Beaver Island State Park, 2136 West Oakfield Rd., Grand Island, (716) 773-3271
Open from dawn to dusk, Beaver Island State Park offers areas for sledding and trails for snowmobiling and snowshoeing.
Chestnut Ridge Park Sledding Hill, 6121 Chestnut Ridge Rd., Orchard Park, (716) 662-3290
Chestnut Ridge Park is arguably one of the best sledding places in the area. This is the place to enjoy tobogganing, sledding, snowboarding, snowshoeing, cross-country skiing, hiking, and snowmobiling all winter long! Check out Chestnut Ridge Park
Como Lake Park, 2220 Como Park Blvd., Lancaster, (716) 858-8355
Como Lake Park offers sledding hills, two ice skating rinks, and cross-country ski trails.
Delaware Park, Meadow Drive, Buffalo, (716) 838-1249
Delaware Park in Buffalo offers sledding to kids of all ages. Shakespeare Hill is popular because it's not a huge hill, so it's easy for everyone to get up and down.
EXTRA: CHECK OUT INCREDIBLE NIGHT TUBING IN WESTERN NEW YORK
Ellicott Creek Park, Niagara Falls Boulevard and Ellicott Creek Road, North Tonawanda, (716) 858-8355
Ellicott Creek Park in North Tonawanda has a sledding hill, places for cross-country skiing, and accessible facilities.
Elma Meadows Golf Course & Park, 1711 Girdle Rd., Elma, (716) 652-5475
Elma Meadows not only provides an impressive golf course for the summer, but excellent hills for sledding, tobogganing, snowboarding and tubing, and groomed cross-country trails for winter sports lovers!  Learn more information on the Elma Meadows Golf Course & Park page
Fort Niagara State Park, Scott Avenue, Youngstown, (716) 745-7273
Open from 9 a.m. until 5 p.m. in the winter months, Fort Niagara State Park has places to sled as well as snowshoeing and cross-country ski trails.
Genesee County Park and Forest, 11095 Bethany Center Rd., East Bethany
Genesee County Park and Forest features two toboggan hills for sledding and trails for snowshoeing, cross-country skiing and snowmobiling.
Gunther's Hill, Woodlawn Avenue, Hamburg
Woodlawn Avenue slopes down straight toward 18 Mile Creek. Gunther's Hill offers sledding to all ages.
Holiday Valley, Ellicottville, (716) 699-2345
Holiday Valley is the place to go for the ultimate tubing experience. The Holiday Valley website provides more information on group rates, what to wear and expect, and directions.
Reservoir State Park, Lewiston, (716) 297-4484 Reservoir State Park is located by the 190 to the Lewiston-Queenston Bridge. You can sled down the retaining wall surrounding the hydroelectric power plant reservoir.
5 Snowiest Days In New York State History
Here are the Top 5 snowiest days in New York State history.
Best Rated Snow Plow Services In Western New York
Now is the time to plan for snow in Western New York. Check out the best-rated snow removal services in Western New York according to Yelp!
6 Buffalo Restaurants That Were On The Food Network
There are two things that Buffalo is known for. Snow and Wings, but the city is full of amazing restaurants that offer way more than great wings and the Food Network knows that.
More From 96.1 The Breeze WMSX