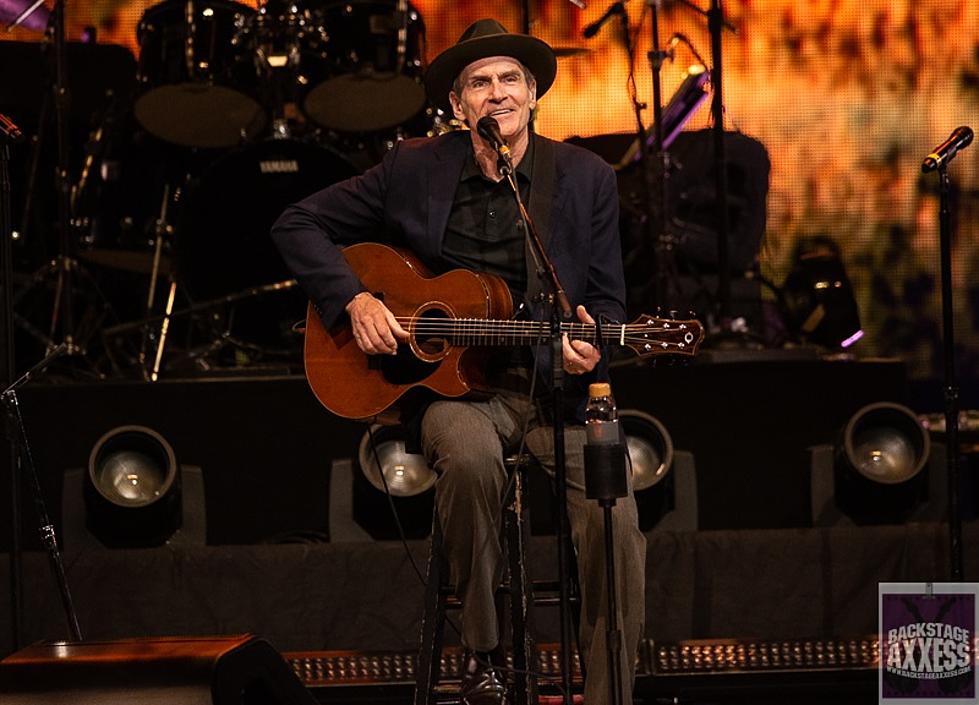 James Taylor and Jackson Browne Concert Review (Photos)
James Taylor at Key Bank Center Buffalo December 13 2021
No matter what style of music you are into listening to, there are a few artists that will always be icons in the industry. And as time moves forward it seems like there are fewer and fewer of them so when the opportunity to see these performers people understand and take advantage of a magical night of music.
Our station contributor David "Gus" Griesinger was at the James Taylor / Jackson Browne show on Monday and sent in the following review along with some great photos of the show.
Side note: I was hanging out with Gus on Thursday as we watched Dokken at the Showplace Theater so yeah, two very different styles of music indeed.
Two of the most prolific singer songwriters in the history of recorded music graced the KeyBank Center stage on Monday night. Both James Taylor and Jackson Browne have enjoyed tremendous success over the last 50 plus years. Both were inducted into the Rock and Roll Hall of Fame and both have earned numerous other awards throughout their illustrious careers. What made this show extra special as it was the last night of the tour. It has been going on since this past summer.

First up was Jackson Browne, Browne played a lot of b sides which I'm sure the die-hards absolutely loved. He also included 3 tracks off his latest album titled 'Downhill from Everywhere.' He also brought up backup singers Tiffany and Aletha to the forefront to sing "The Dreamer."   I though Browne's voice was as solid as ever. He also emphasized the word Buffalo throughout when talking to the crowd in between tracks. James Taylor joined him at the end of his set for both "Pretender" and the tune that he is probably most associated with in "Running on Empty." Overall, I thought Browne put on a solid performance.

Headliner James Taylor was up next. Taking the stage at 9:10pm, Taylor's 12 song set lasted approximately an hour and 40 minutes. Starting off with the old classic "Country Road" of the 1970 album, ''Sweet Baby James,' you can already tell that Taylor and his All-Star Band were in fine form right from the get-go. What makes Taylor endearing to his fans is his comical banter in between songs. He has an amazing catalog of songs but how he delivers those songs is the key. He has been doing that just as well as anyone over the last 50 plus years. Jackson Browne paid back the favor and joined Taylor for a cover of The Eagles "Take it Easy." Taylor had an array of background singers that included his son Henry (who was taller than James is). In fact, it was only Henry and James at the end as they closed the show with "You Can Close Your Eyes." The only thing I was not a fan of was Taylor slowed some of his most popular songs a half a step and not sure why that was?  Otherwise, I thought Taylor's set was solid as well.

What a great double bill and glad they let Buffalo have the last glimpse of it.

 
David "Gus" Griesinger is the CEO/Artist Relations of BackstageAxxess  Photographer/Writer for Buffalo Night-Life weekly/Goldmine Magazine contributor/Townsquare Media correspondent.
James Taylor Jackson Brown Concert Buffalo 2021
James Taylor Jackson Brown Concert Buffalo 2021
Genesis Last Domino Tour Buffalo
Goo Goo Dolls
More From 96.1 The Breeze WMSX