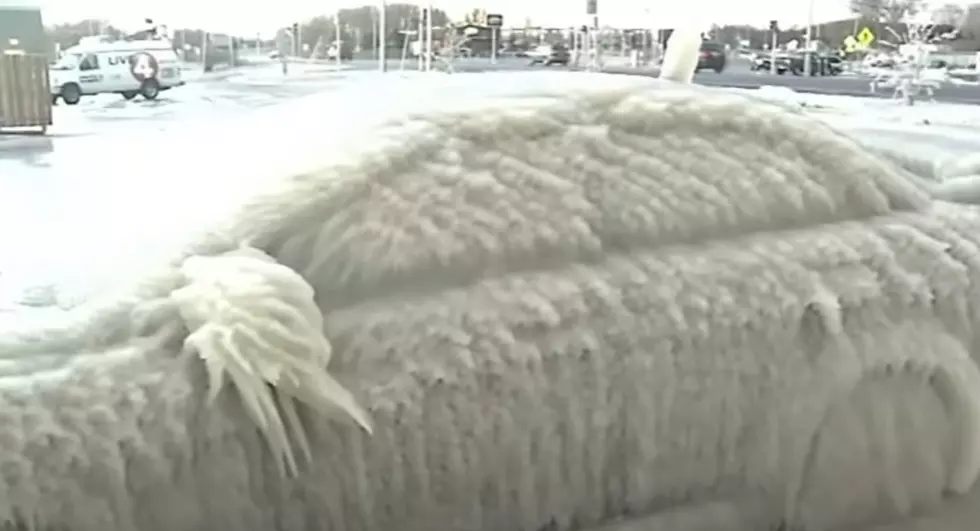 Weekend Blizzard Could Lead To Another "Ice Car" In Buffalo
Photo Credit: YouTube
Another massive blizzard-like storm is coming to Western New York this weekend and along with snow and ice are heavy winds that could cause huge waves along Lake Erie.
Feel Good Mornings With Dave Fields Mon-Fri 6am-10am
The last time we saw huge waves along the Lake paired with sub-freezing weather was in 2016 which lead to one "ice car" going viral.
If you don't remember, the ice car was left parked in the parking lot of Hoak's restaurant overnight when heavy winds of 47 miles per hour swept up the lake water over the side of the embankment and over the car.
 
EXTRA: 4 THINGS YOU NEED TO DO BEFORE THE WEEKEND BLIZZARD
The temperatures also dropped to below zero which caused the lake water to freeze and encase the car in ice.
Beside the car, the area on the ground around the car also froze creating a makeshift ice rink.
The good news is that the car was only encased in ice for a couple of days before it was able to be towed out of the parking lot and left to defrost in a local auto repair shop.
So what are the chances it could happen again this weekend? Pretty good. The winds will actually be stronger this weekend than they were in 2016 and the weather will be dropping into the single digits overnight, so if you are planning on parking your vehicle near the lake, you might want to reconsider the idea.
Santa's House Is On Zillow
Take a peek inside Santa's home.
5 Snowiest Days In New York State History
Here are the Top 5 snowiest days in New York State history.
Historic Snow Storm Hits Buffalo
A historic snowstorm slammed into Western New York on Friday and continues to bring snow to all areas across the region.
More From 96.1 The Breeze WMSX