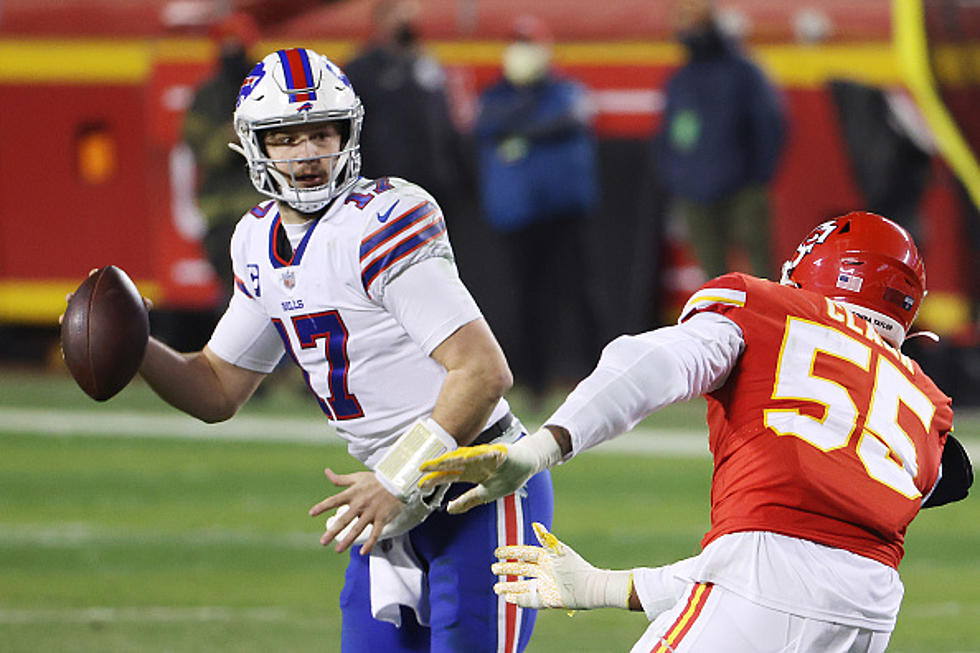 Get Ready For Some Bad Weather For The Bills Sunday Night Game
Getty Images
The Buffalo Bills travel to Arrowhead Stadium this Sunday night to play the Kansas City Chiefs on Sunday Night Football on NBC.
The week 5 matchup will be the Bills' first primetime game of 2021 and most definitely the toughest challenge so far this season.
Despite the Chiefs current 2-2 record, they still have arguably the best offense in the NFL and have been a thorn in the Bills side, beating them twice last season: once in the regular season and again in the AFC Championship game.
The Bills had to deal with heavy rain for last Sunday's game against thee Houston Texans at Highmark Stadium, and it appears that will be the case once again for the game at Arrowhead Stadium.
Right now, The Weather Channel is forecasting an 80 percent chance of rain and 1-2 inches of rain expected over the course of the evening and overnight in Kansas City.
Patrick Hammer of WGRZ told WGR radio in Buffalo that heavy thunderstorms are expected late Sunday night but should hold off for most of the game. This system that is moving through has the chance to bring severe weather with it, even a chance or a tornado.
That does not help out the Bills injury problems. According to head coach Sean McDermott, defensive end A.J. Epenesa hurt his foot in Thursday's practice and has not yet committed to Epenesa playing on Sunday, per Joe Buscalgia of The Athletic.
Matt Milano will be limited at Friday's practice and as of now, has not been ruled out of Sunday's game in Kansas City.
Defensive end Gregory Rousseau is also dealing with an injury and his status is not yet known for the game.
The Bills need all the help they can get and missing players like Milano, Epenesa and Rousseau is a worst-case scenario, going up against Patrick Mahomes and the Chiefs offense.
15 Things You Should Never Do at a Bills Home Game
Things that are a no-no to do at a Buffalo Bills home game.
Every Pick Made By Buffalo Bills GM Brandon Beane
20 Amazing Old-School Restaurants in Buffalo
The 20 best old-school restaurants and bars in Western New York.
57 Fun Facts You Might Not Know About Buffalo
You might know a lot of these, but there is no way you know all 57 things. If you did, I would be impressed.
Here's a list of 57 fun facts that single Buffalo out from the rest of the country.
More From 96.1 The Breeze WMSX