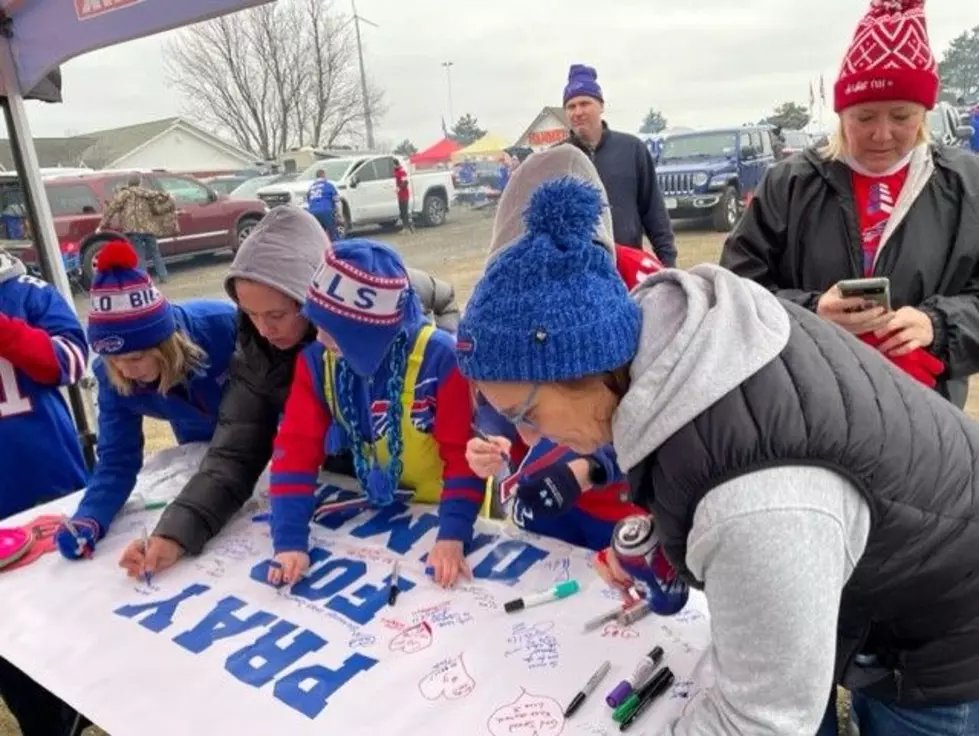 Bills Mafia Show Love For Damar Hamlin Before Game [PHOTOS]
Photo Credit: Dave Fields/TSM 2023
The Buffalo Bills returned to the field today at home at Highmark Stadium to host the New England Patriots.
Feel Good Mornings With Dave Fields Mon-Fri 6am-10am
This was the first game for the Bills since safety Damar Hamlin left the fields in an ambulance due to a cardiac attack and the Bills Mafia was out in full force to show their support for the 2nd year's safety.
Bills Mafia Show Love For Damar Hamlin Before Game [PHOTOS]
Bills Mafia came out in amazing support of Bills Safety Damar Hamlin before Sunday's home game.
The Bills opened up the game with a kickoff return for a touchdown and Damar went crazy on Twitter.
The Bills are playing for the #2 seed in the AFC playoffs as the Kansas City Chiefs claimed the #1 seed with a win on Saturday over the Las Vegas Raiders.
If the Bills were to face the Chiefs in the AFC championship game, the NFL ruled that if those two teams were to play for the AFC's right to play in the Super Bowl that game would be played at a neutral site. The league rules since the Bills/Bengals would be canceled, the only fair thing to do would have the at a neutral site.
The Patriots would have to win the game in order for a chance to make the playoffs. They would end up winning the 7th seed and could end up playing the Buffalo Bills in the opening round of the AFC playoffs next weekend. The Patriots would end the season with a 9-8 record.
Bills Mafia's Wishlist For The New Buffalo Stadium
The Bills are building a new stadium and here is a wishlist from Bills Mafia.
QUIZ - Can You Name These 25 Buffalo Bills Players?
Alright...Bills Football is here. How big of a fan are you? Can you name of 25 of these Buffalo Bills players?
More From 96.1 The Breeze WMSX