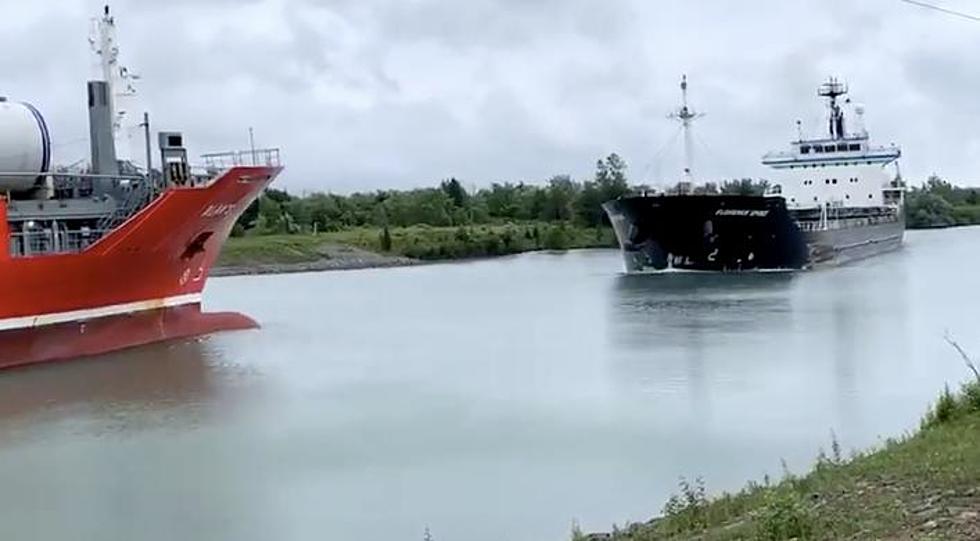 Cargo Ships Collide In Welland Canal
Photo Credit: Jeremy Barton via Nathan Howes Twitter
Most of us have heard of the Welland Canal in Ontario, Canada. It connects Lake Ontario and Lake Erie forming an important part of the St. Lawrence Seaway and Great Lakes Waterway.
Enter your number to get our free mobile app
The Canal itself gives ships the ability to basically ascend and descend the Niagara Escarpment, therefore, bypassing Niagara Falls. The canal is 27 miles in length and features 8 locks. About 3,000 ships pass through the Canal per year without any real difficulty, so news of two Cargo ships colliding is rare.
The video shows two cargo vessels approaching each other with neither seeming to yield to the other until they collide with one another. According to Jean Aubry-Morin, Vice President of External Relations for the St. Lawrence Seaway Management Corp., there were no injuries, and no pollution left from the collision but damage was suffered by both vessels.
The vessels were later identified as the Alanis and the Florence Spirit.
The ships according to reports would normally have been passing each other on the port side, collided on their starboard sides with the Florence Spirit experiencing more damage.

The Florence Spirit was transporting coal to Lake Ontario while the Alanis was carrying wind turbine parts to Lake Erie.
From Nathan Howes, (Reporter for the Weather Network) Twitter Feed...video courtesy of Jeremy Barton.
Beware of These 50 Jobs That Might Vanish in the Next 50 Years
More From 96.1 The Breeze WMSX