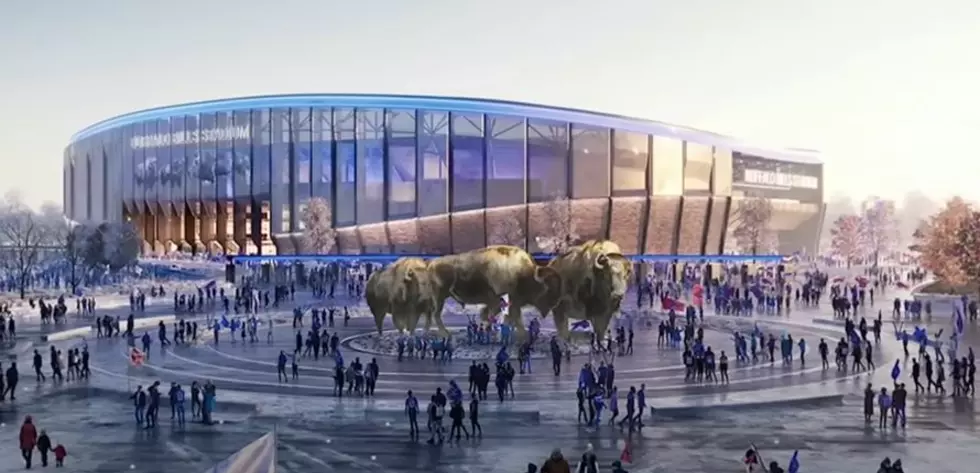 The Buffalo Bills Breaking Ground On New Stadium Soon?
Photo Credit: YouTube
Now that the Buffalo Bills' season is over and the players have cleared out their lockers what is next for the team?
Feel Good Mornings With Dave Fields Mon-Fri 6am-10am
The players will head home and the coaches and staff will work together to make improvements in the offseason to shore up the team for a run to the Super Bowl next season.
Another set of personnel will be working on the new home of the Buffalo Bills. Since it was first released that the Bills would be building a new stadium in Orchard Park, fans have been chomping at the bit to see it go up and enjoy the newest stadium in the NFL.
The plan is to have the stadium ready for the 2026 season which means work has to start soon. While no date has been given, during the initial press conference announcing the stadium officials with the team said they expected to "break ground" in 2023.
While, it is now 2023, so when do the trucks start moving in? This $1.4 billion project will be the biggest project in the region and it looks like the target date to start work on the stadium will be in a couple of months.
The Bills have already marked where the 50-yard line will be in the new stadium on the old parking lots, so if you have time you can jet over there and visualize how the stadium will look.
If you are bad at visualization, check out this video.
6 Names Western New Yorkers Call Bills Stadium
The Buffalo Bills have been around for a long time and ever since they moved to Orchard Park, Western New Yorkers have called the stadium several different names.
10 Buffalo Bills Players Who Are Free Agents
These 10 players could be on new teams next season.
Bills Mafia Show Love For Damar Hamlin Before Game [PHOTOS]
Bills Mafia came out in amazing support of Bills Safety Damar Hamlin before Sunday's home game.
More From 96.1 The Breeze WMSX